Luminoso is a recruitment company specialising in the creative industries. Director Craig Letham was disillusioned with the traditional way the industry operated. His mandate was to try and change the industry by bringing more accountability, integrity and responsibility to the process. I'm sure we can all agree that 'disruptive' is a saturated adjective that we want to avoid, but please humour us, because this truly was a brief to disrupt an industry.
The brief was twofold — update the existing brand to reflect how the company had evolved since its inception, and find a way to make their different attitude tangible and visible.
Now I'm the first to start designing pretty things and brainstorming catchy slogans to solve business issues, believe me. But it was obvious that in order to disrupt an industry which is generally seen to be one rung above used car salesmen–it was going to take more than creative branding.
In fact, each time we went down a rabbit hole trying to solve this thing we ended up shooting ourselves down in flames. Recruitment behaviours, by recruiters, clients and candidates have led us to a place where we expect the worst as standard. Sadly that means that all parties struggle to believe any recruitment narrative.
We understood that whilst Craig's disdain and vitriol were genuine, it would all fall on deaf ears without some substance to back it up. We collaborated with Craig to fundamentally re-imagine the traditional recruitment business model and build something with him that had a higher purpose. We asked him to challenge his own thinking, and together we began to see a next-generation model forming. That new model would affect the cultural behaviours of all stakeholders and deliver an industry disruption. Branding would follow, but business strategy needed to come first.
Strategy
We worked with Luminoso to find a way to build respectful ethics into their business model and to disrupt the industry. There were two core performance requirements:
Actual, money where your mouth is level commitment; and

Respect for the creative industries they serve.
Together with Craig, we completely restructured their offering with a new payment model that directly tied to the long-term success of their candidates. It was also designed to appeal to a different personality type of recruiter. No big commission, no instant gratification, instead–solid rewards for well-suited long-term placements. With this, they would turn the recruitment industry upside down from the ground up, but it wasn't going to be easy to launch a new model in a cynical marketplace.
It was also a substantial risk. If they weren't as good as they thought they were the changed cash-flows would kill the business.

The existing logo had worked well,
but now it was time to evolve the brand and the business.
Creative Approach
Many ideas were fielded to describe the Luminoso point of difference. Renaming 'recruitment', disruptive new job title(s) for the recruiters, and or a methodology brand differentiator.
After many other ideas were deemed too clumsy or complicated we opted for the sophistication of simplicity and told their story by simply turning 'recruitment' upside down.
This prompts a moment of discovery when people first encounter the logo. The resulting question, or wry, "Oh, I see what you did there", are both powerful, engineered brand narrative and experience tools.
The identity design needed to be lifted to a more premium status, and we approached the custom typography with two ideas:
To create the simplest filter (a stencil) and

To mimic the illumination of the type in relief.

When we looked at other creative industry recruiters, what we found beggared belief. In multiple instances, we found creative recruiters who were using a logo designed on crowdsourcing sites like Fiver.
Luminoso needed to have credibility with and respect for Austalia's professional designers, directors, and buyers. More importantly, perhaps, Luminoso had a responsibility to be supporting the industry it served.
For the record; if you are servicing the creative industry and have a cheap logo done by someone's nephew in photoshop for $20, or from a crowdsourcing site, you should be grateful that your mother loves you.
Craig already owned the trademark for Luminoso and had enjoyed years of success under that name. So with good IP governance, and strong brand equity we sought to rebuild the story in the word. Luminoso became a description of a brand that is a master (virtuoso) at capturing and enabling the brightest (luminous) talent. Luminous + Virtuoso = Luminoso.
We looked for a way to translate that capturing of light into the identity. Craig's business cards were not printed but foiled onto 450gsm Notturno black stock. We experimented with several substrates until we found a holographic foil that gave us an ever-changing way to capture the ambient light. The resulting colour gradients were then translated throughout the on-screen visual identity through the 'magic' of photoshop.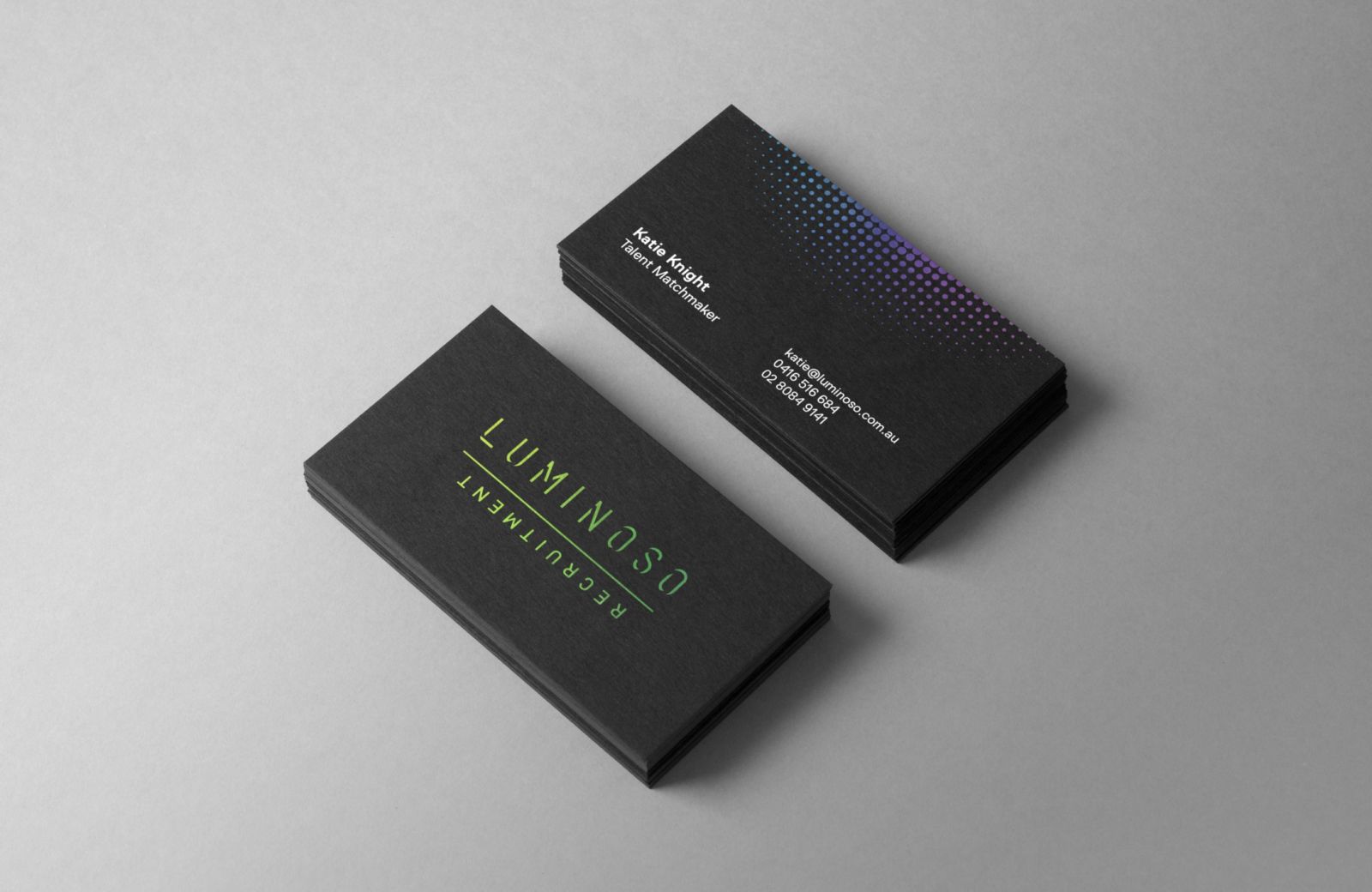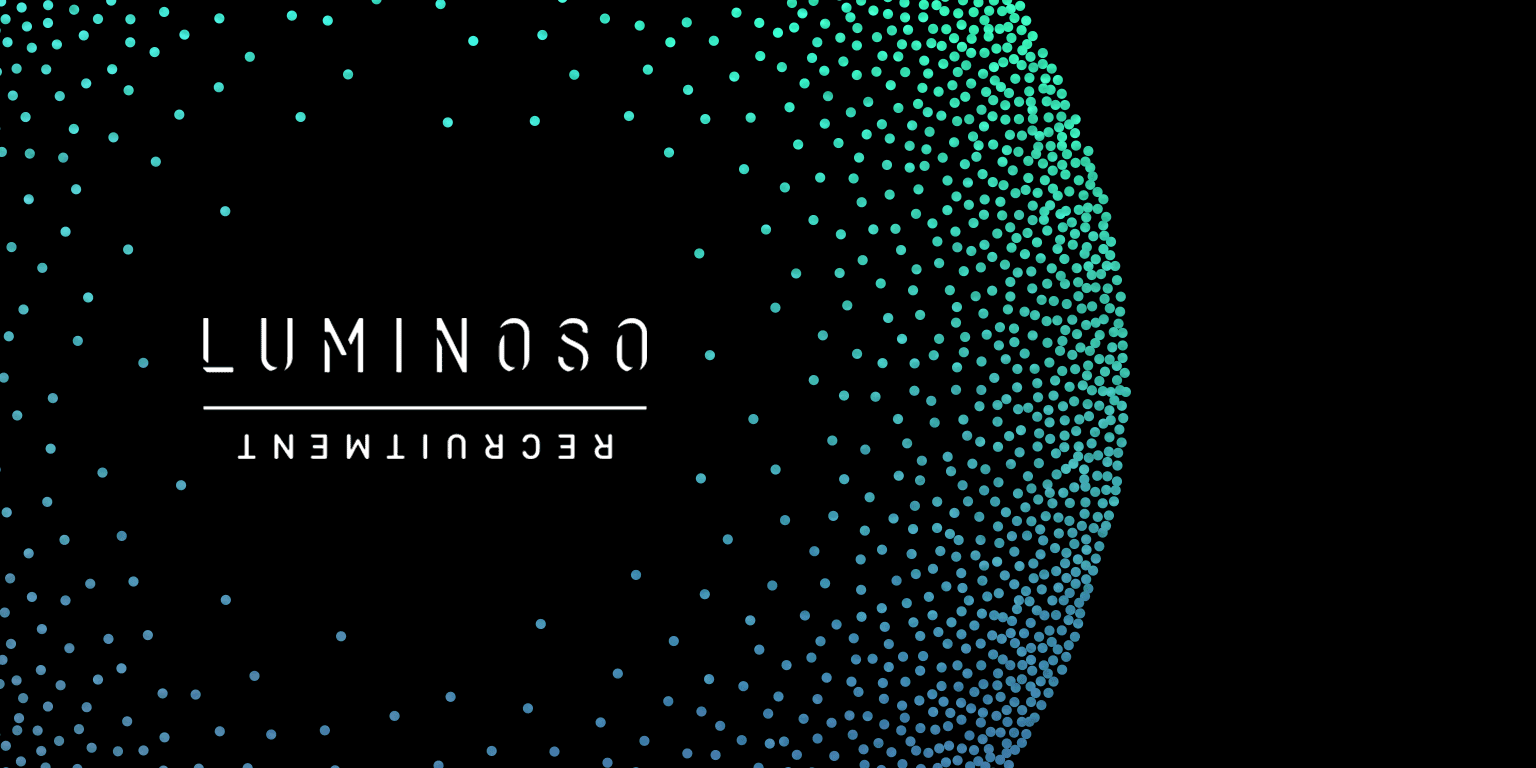 Strategy and branding were backed up with some clear brand narrative and brand persona directions. It needed to channel the 'no bullshit', satirical, and clever nature of the founder. Craig calls a spade a spade and frequently writes and publishes his candid opinions on the creative and recruitment industrys' good, bad and ugly moments. With a strong, committed and honest personality like this at the helm, it's possible to build an authentically engaging brand voice.
For example, recruitment headers were reframed to attract attention, interest and engagement, not to just be role descriptions. (Sometimes a role isn't going to be at a workplace with a Google-like fit-out, but that's ok if it pays the bills and has great benefits!)
We created copywriting that valued honesty and transparency, but with a wry smile. Luminoso has a bold character and a large part of the delivery would be through copywriting, we took the 'upside-down' cue from recruitment and integrated that into our headline styles.

The brand was soft-launched at first with an email campaign of three messages sent out ahead of the launch party (held on a yacht in Sydney Harbour) designed to create intrigue for what was to come. At the launch party, Craig held court and revealed his new business model.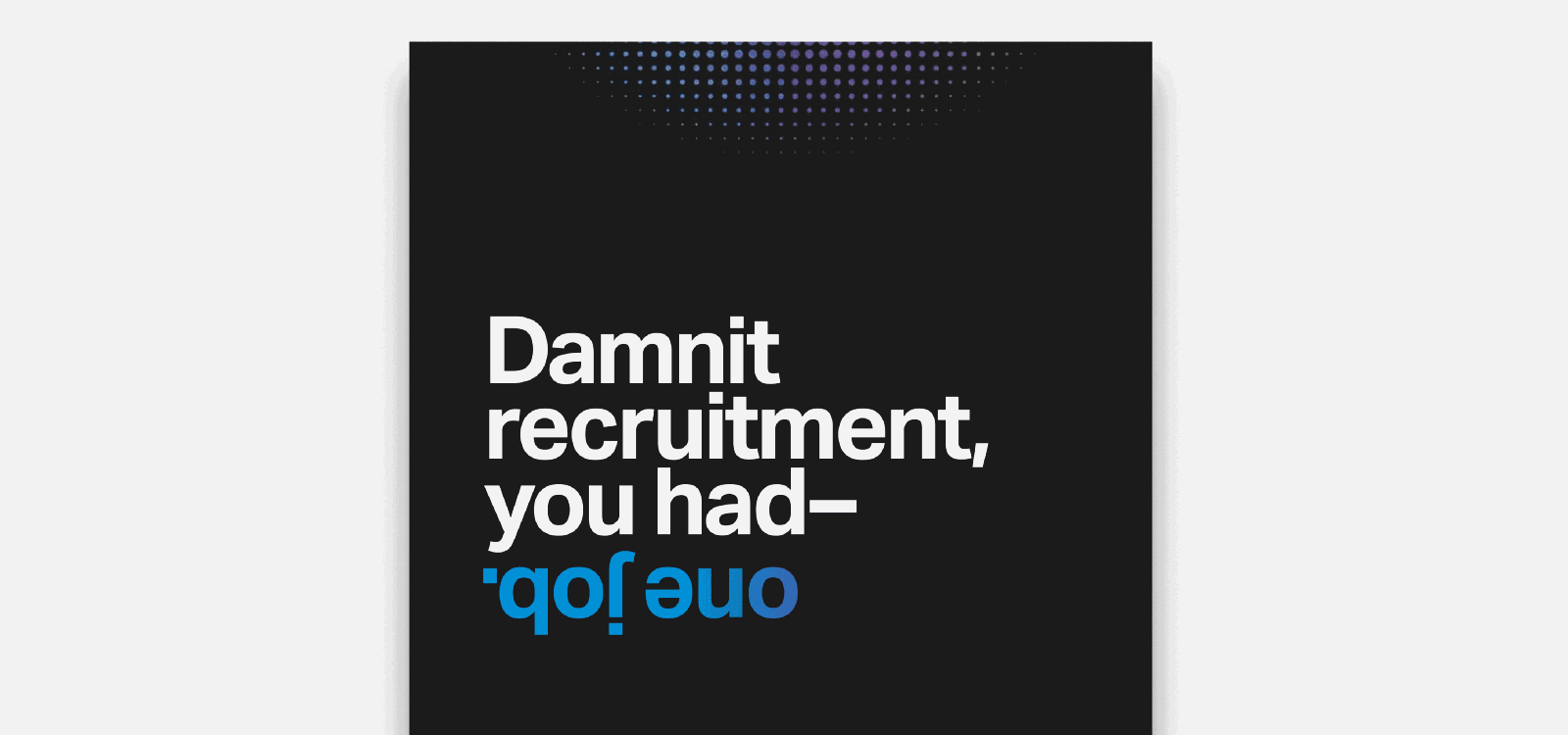 Outcomes
The new business model and branding generated significant attention, very positive reactions from the creative community and opened doors into some large clients and multi-nationals that hadn't been responsive in the past.
"We won a huge new assignment in March from a brand new, ASX-listed client to recruit 21 newly-created roles over an eight-week timeframe. We were told that it was specifically our new model, and the post-placement coaching aspect, that won it."
- Craig Letham
Summary
In order to disrupt a market, you need to actually do something disruptive. That's not going to be easy. But if it's an authentic and impactful change to the status quo, and if offers benefits that are clearly understood–then it stands a good chance of being successful, even in a cynical and fatigued market.
We couldn't simply approach this project from the single perspective of the design if we were to achieve the objective. In order to deliver a tangible brand disruption, we needed to run a deep strategic discovery process and co-develop a virgin business strategy with the owner. Once that was tested and agreed, we ensured the brand IP and governance was sound, developed a new brand strategy, translated that to brand creative, brand narrative, and lastly curated a unique brand persona.
"Great experience working with Untold®. They did a fantastic job on our new branding, delivered everything on time, on budget, and they went the extra mile to help us. Highly recommend these guys."
- Craig Letham